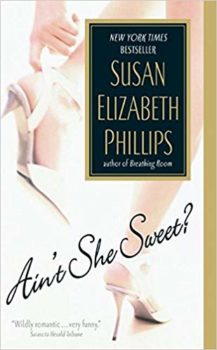 January 25, 2005
Avon Books
ISBN-10: 0066211247
ISBN-13: 9780066211244
Available in: Hardcover, Paperback, Audio, e-Book (reprint)
Ain't She Sweet?
Ain't She Sweet?
Not exactly . . .
The girl everybody loves to hate has returned to the town she'd sworn to leave behind forever. As the rich, spoiled princess of Parrish, Mississippi, Sugar Beth Carey had broken hearts, ruined friendships, and destroyed reputations. But fifteen years have passed, and life has taught Sugar Beth its toughest lessons. Now she's come home—broke, desperate, and too proud to show it.
The people of Parrish don't believe in forgive and forget. When the Seawillows, Sugar Beth's former girlfriends, get the chance to turn the tables on her, they don't hesitate. And Winnie Davis, Sugar Beth's most bitter enemy, intends to humiliate her in the worst possible way.
Then there's Colin Byrne. . . . Fifteen years earlier, Sugar Beth had tried to ruin his career. Now he's rich, powerful, and the owner of her old home. Even worse, this modern-day dark prince is planning exactly the sort of revenge best designed to bring a beautiful princess to her knees.
But none of them have reckoned on the unexpected strength of a woman who's learned survival the hard way.
While Sugar Beth's battered heart struggles to overcome old mistakes, Colin must choose between payback and love. Does the baddest girl in town deserve a second chance, or are some things beyond forgiving?
Originally published February 2004 in hardcover, January 2005 in mass market paperback and October 2009 in eBook.
"…witty… …my all-time favorite romance novel." —Columbus Dispatch
"Ain't She Sweet? is one of those books that define romance novels…. Treat yourself to it now… It will be an instant addition to your personal romance classic list" —The State
"…cheeky, diverting fairy tale." —Publishers Weekly
"Known for her trademark quick wit and snappy dialogue, Ms. Phillips consistently writes first rate romance novels, and Ain't She Sweet? is another keeper." —Reviewer's Choice
"This saucy novel will delight Phillips's fans, who have been eagerly awaiting her next creation." —Library Journal
"…sassy, sexy contemporary romance. The simple perfection of her writing in this splendid tale will charm readers." —Booklist
"Taking characters with flaws both large and small and making them endearing is something Phillips does exceptionally well. Ain't She Sweet? hits the bull's eye." —RT Bookclub