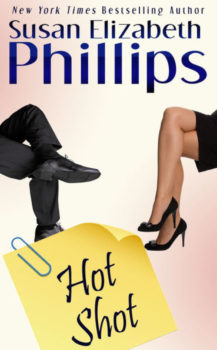 December 29, 2012
Gallery Books
Available in: Audio, e-Book, Trade Size (reprint)
Hot Shot
SHE JUMPED ON THE BACK OF A BAD BOY'S HARLEY AND
FOLLOWED HIS RENEGADE DREAM….
In a single, impulsive act, Susannah Faulconer, the daughter of one of the country's most powerful industrialists, follows her heart and finds herself severed from her family and everything familiar. As a cool San Francisco socialite, she'd known exactly how to behave, but now she's a lone woman in a world of men…and there's no etiquette book in the world that can teach her how to survive.
The men are rebels, determined to take on corporate America with daring and vision, and they aren't going to let her play by good girls' rules. There's Sam, the charismatic visionary, on a rocket-driven ride to glory. And Mitch, the troubled corporate genius with no time for a rich socialite, no matter how beautiful. Together, they will force Susannah into the biggest challenge of her life as she tests her courage — and her love — in a bold experiment that will change them all forever.
Come share a glorious, heart-stopping love story, and meet the unforgettable woman called Hot Shot as she discovers a passion so rich, so tender, that she will be utterly and forever transformed.
Originally published June 1991 in mass market paperback by Pocket Books, reissued April 2005 by Gallery Books and February 2010 in eBook by The Axelrod Agency.
Phillips (Fancy Pants ) recovers from a sluggish start to offer a fun and lively look at lots of 'tales' already love, microchips and rock 'n' roll. In 1976, California socialite Susannah Faulconer is engaged to marry an up-and-coming executive in her father's technology corporation when Sam Gamble hustles his way into Susannah's well-ordered life with a revolutionary product: a prototype for a microcomputer, the work of electronics maven Yank Yankowski. Sam, a long-hairedp. 42 visionary, captures Susannah's imagination, and when he crashes her picture-perfect garden wedding, she hikes up her gown and hops onto the back of his Harley. Her euphoria is short-lived as she realizes that neither Yank nor Sam has the requisite business sense to succeed in pk their venture. She digs in, making the most of her upper-crust training and a few library books on business, but it's clear they need a professional. The unlikely entrepreneurs pique the interest of marketing wizard Mitchell Blaine. Mitch sees Susannah as Sam's "woman trouble" but when he tries to cut her out of the company, he learns that under the ex-debutante facade is a woman who can play hardball with the boys. — Publishers Weekly