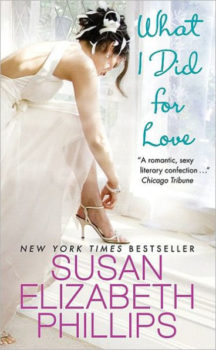 December 29, 2009
Avon Books
ISBN-10: 0061351504
ISBN-13: 9780061351501
Available in: Paperback, Audio, e-Book (reprint)
What I Did for Love
It's not easy being famous when your life is falling apart…
Georgie York has been dumped by her movie star husband, her own film career is tanking, and her public image as a spunky romantic heroine is taking a serious beating.
What should a down-on-her-luck actress do? NOT go to Vegas…NOT run into her detestable former co-star—dreamboat-from-hell Bramwell Shepard…and NOT get caught up in a ridiculous incident that leads to a calamitous elopement. Before she knows it, Georgie has a fake marriage, fake husband, and maybe (or not) a fake sex life.
It's a paparazzi free-for-all, and Georgie's non-supporting cast doesn't help. There's Bram's punk-nightmare housekeeper; Georgie's pushy parent; a suck-up agent; an icy studio head; and her ex-husband's new wife, an international do-gooder who just might win the stupid Nobel Peace Prize!
As for Georgie's leading man… Bram, with his angel blue eyes and twisted black heart, has never cared about anyone but himself. Still, he's giving the performance of his life as man in love—thanks to the half a million dollars she's paying him. It was official. She'd married the devil. Or had she?
Two enemies find themselves working without a script in a town where the spotlight shines bright…and where the strongest emotions can wear startling disguises.
Originally published January 2009 in hardcover by William Morrow.
NOTE: If you'd like to hear me read the beginning of WHAT I DID FOR LOVE, click play:
"Crown Susan Elizabeth Phillips the queen of romantic comedy. …another sterling example of how Phillips masterfully ingrains wit and humor with a couple's delightfully rocky journey to love…. It's a perfect romantic comedy." —McClatchy-Tribune News Service
"Another funny, poignant, totally satisfying winner from an author who doesn't disappoint." —Library Journal
"Phillips makes old Hollywood gossip new again in this over-the-top, hot-under the sheets, rom-com. …massively entertaining…" —Publishers Weekly
"…witty romance with a heart of gold… Full of engaging characters, whose flaws only make them more endearing, this romance is love, Phillips-style, as its charming best." —Bookpage
"Writing with both sharp wit and terrific emotional warmth, Phillips delivers another of her supremely satisfying contemporary romances." —Chicago Tribune
"Phillips at her best!" —Romantic Times (Top Pick)