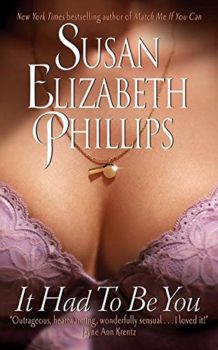 Chicago Stars #1
March 5, 2002
Avon Books
Available in: Paperback, Audio, e-Book, Trade Size
It Had To Be You
The Windy City isn't quite ready for Phoebe Somerville — the outrageous, curvaceous New York knockout who has just inherited the Chicago Stars football team. And Phoebe is definitely not prepared for the Stars' head coach Dan Calebow, a sexist jock taskmaster with a one-track mind. Calebowis everything Phoebe abhors. And the sexy new boss is everything Dan despises — a meddling bimbo who doesn't know a pigskin from a pitcher's mound.
So why is he drawn to the shameless sexpot like a heat-seeking missile? And why does the coach's good ol' boy charm leave cosmopolitan Phoebe feeling awkward, tongue-tied…and ready to fight?
The sexy, heartwarming, and hilarious "prequel" to New York Times bestselling author Susan Elizabeth Phillips' This Heart of Mine — her sensational bestsellinng blockbuster — It Had To Be You is an enchanting story of two stubborn people who believe in playing for keeps.
Also published June 2008 in trade paperback and May 2013 in eBook by William Morrow.
"Susan Elizabeth Phillips provides spectacular reading entertainment. Hers is a deliciously unique voice in the world of women's fiction. No one tops her when it comes to writing outrageous, heartwarming, wonderfully sensuous romance. She makes you laugh, makes you cry–makes you feel good. " —Jayne Ann Krentz, New York Times bestselling author
"[Five Stars] It has been a long time since a story has made me laugh out loud and stay up half the night hanging onto every witty word. The characters came alive and I hated to say goodbye when the final page was read, much like saying goodbye to old friends. [Until this time] only three authors had accomplished that feat for me, Judith McNaught, Sandra Brown, and Kathleen Woodiwiss. And now…Susan Elizabeth Phillips. Congratulations!" —Affaire de Coeur
"Exceptional….Author Susan Elizabeth Phillips triumphs once again with her newest spicy, fast-paced, and funny tale delving into life in the big leagues." —Romantic Times
"This is one terrific story…. Warm and wonderful…. Excellent!" —Rendezvous
"…the most entertaining contemporary novel of the year…. It Had To Be You is one of those 'few and far between' novels that makes reading romance fun again." —Forum Community News, San Leandro, Ca
"…among the best I've ever read. This book has it all." —Paperback Forum
Favorite Book of 1994, Romance Writers of America
Romance of the Year, 1994, Affaire de Coeur
Romantic Times Reviewer's Choice Award, Best Contemporary Romance, 1994
Best Contemporary Romance, 1994, Affaire de Coeur
Best Single Title Contemporary, 1994, The Readers' Voice
Top 25 Romances of the Century, Amazon.com