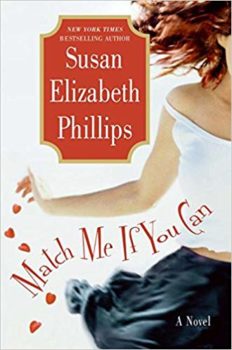 Chicago Stars #6
August 29, 2006
Avon Books
ISBN-10: 0060734558
ISBN-13: 9780060734558
Available in: Hardcover, Paperback, e-Book
Match Me If You Can
Annabelle is tired of being the lone failure in a family of overachievers. She's endured dead-end jobs and a broken engagement. Even her hair's a mess! But that's going to change now that she's taken over her late grandmother's matchmaking business. All Annabelle has to do is land the Windy City's hottest bachelor as her client, and she'll be the most sought-after matchmaker in town. Nothing is going to stand in her way—not the drunk lying comatose under her car, not her family's disapproval, and certainly not the lingering effects of a broken heart.
With his money green eyes and calculated charm, Heath Champion is the best sports agent in the country. He's wealthy, driven, and gorgeous, so why does he need a matchmaker, especially a red-haired screw-up like Annabelle Granger? True, she's entertaining, and she does have a certain quirky appeal. But Heath is searching for the ultimate symbol of his success—the perfect wife. And to make an extraordinary match, he needs an extraordinary matchmaker, right?
Thin, rich, utterly fabulous Portia Powers has spent her career making matches for everyone but herself. Her take-no-prisoners attitude has built Power Matches into the top matchmaking agency in Chicago. So what if she has more enemies than friends and she's one breath away from a nervous breakdown? Neither an upstart like Annabelle Granger nor Heath Champion's menacing, but oddly intriguing, bodyguard, will keep her from getting what she wants—a Power Match for Heath … the city's very own Jerry Maguire.
Soon everyone in Chicago has a stake in the outcome, right down to Annabelle's overprotective book club. When the matchmaker promises she'll do anything to keep her star client happy … does she mean anything? If Annabelle isn't careful, she just might find herself going heart-to-heart with the toughest negotiator in town—a man who's beginning to ask himself: Exactly how perfect does perfect have to be?
Originally published August 2005 in hardcover by William Morrow.
"…a wonderful gift from Susan Elizabeth Phillips to her reader. …witty banter and characters who have you laughing, cheering and perhaps even crying a bit. Another fabulous romantic story, something you can count on when Phillips' name is on it." —The State
"With a wicked wit and saucy charm…Phillips fashions a deliciously fun romance…. Dazzling." —Booklist (Starred review)
"…Phillips pulls it off beautifully. …totally enjoyable romance." —Library Journal
"…captivating romance…. Phillips has once again created a delightful page-turner." —Publishers Weekly
"No one can deliver more charm, warmth and good-hearted fun than Phillips. That all of the old gang from her previous Chicago Stars books is back is just icing on this already terrific cake." —Romantic Times BOOKclub
"Phillips is a master of her craft. Everything in 'Match' works toward a funny, smart, satisfying read, perfect for summer escapes." —Contra Costa Times