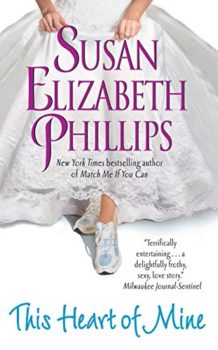 Chicago Stars #5
February 5, 2002
Avon Books
Available in: Paperback, Audio, e-Book (reprint)
This Heart Of Mine
Molly Somerville knows she has a reputation for trouble. She did give away her fifteen million dollar inheritance, but, hey, nobody's perfect.
Still, if anyone has an almost-perfect life, it's Molly. While her Daphne the Bunny children's books could be selling better, she loves her cramped loft, her French poodle, and creating the fictional animals who live in Nightingale Woods.
She even loves her sister, Phoebe. True, it was a little tough growing up in her shadow. Phoebe is beautiful, blissfully married, and the owner of the most successful professional football team in America. But who other than your sister knows you're about to do something drastic every time you change your hair?
Yes, Molly's happy about almost everything….except her long term crush on the daredevil quarterback for the Chicago Stars, that awful, gorgeous Kevin Tucker…a man who can't even remember her name!
One night, Molly's penchant for running into trouble runs right into Kevin himself, turning her world upside down. Heartbreak follows, and just when she's certain things can't get worse, Kevin forces his way back into her life. If only the overpaid, Ferrari-driving, poodle hating jock were as shallow as she wants him to be, she could get on with her almost-perfect life.
But Kevin's hidden depths and iron-will propel Molly out of her comfortable existence into an unforgettable summer at a place called Wind Lake. Surrounded by paint box cottages and a charming old Bed and Breakfast, she and Kevin battle their attraction while trying to cope with an aging, sex pot actress, a cranky, world-famous artist, and a pair of teenage newlyweds.
Their careers and lives are in crisis…yet they can't seem to stay away from each other. Before the summer is over, will they be able to learn one of life's most important lessons? Sometime falling in love hurts, sometimes it makes you mad as hell, and sometimes…if you're very lucky…it can heal in the most special and unexpected way.
Originally published February 2001 in hardcover by William Morrow.
"…pure up-to-the-minute entertainment." —Publishers Weekly
"No one can tell a story quite like Susan Elizabeth Phillips. Her unique brand of characters and humor are in a category all their own." —Romantic Times
"…a fabulous read. Humor, poignancy, creative plotting, wonderful characters, and superb sexual tension make this book an all-around winner." —All About Romance
"By turns poignant, funny, and joyful, it's an engrossing read that will captivate her legions of fans." —The Romance Reader
"[A] Perfect Ten. Readers will find the author's trademark humor as well as sexual tension thick enough to cut a knife." —Romance Reviews Today