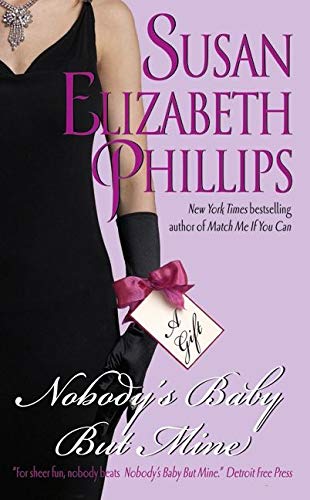 Chicago Stars #3
January 17, 2012
Avon Books
Available in: Paperback, Audio, e-Book, Trade Size (reprint)
Nobody's Baby but Mine
Genius physics professor Dr. Jane Darling desperately wants a baby. But finding a father won't be easy. Jane's super-intelligence made her feel like a freak when she was growing up, and she's determined to spare her own child that suffering. Which means she must find someone very special to father her child. Someone who's more comfortable working out his muscles than exercising his brain.
Cal Bonner, the Chicago Stars' legendary quarterback, seems like the perfect choice. But his champion good looks and down-home ways are deceiving. Dr. Jane is about to learn a little too late that this good ol' boy is a lot smarter than he lets on—and he's not about to be used and abandoned by a brainy, baby-mad schemer.
Originally published February 1997 in mass market paperback.
"Nobody writes funnier romance than Susan Elizabeth Phillips." —Marcia Abramson, Detroit Free Press
"Funny, sexy, funny, fast, funny, wonderful–and hilarious! If you can read Susan Elizabeth Phillips without laughing out loud, check for a pulse!" —Elizabeth Lowell, New York Times bestselling author
"…cannily drawn characters…sexually charged…emotionally wrenching. This is the most satisfying romance I've read in quite a while." —Lynn Coddington, Contra Costa newspapers
"When it comes to tugging on your funny bone as well as your heart strings, nobody does it better than Susan Elizabeth Phillips. Nobody's Baby But Mine is another triumph!" —Jill Smith, Romantic Times
Five Star Gold. "This book is wonderful!" —Heartland Critiques
"…I predict you will never have a faster or funnier read than Nobody's Baby But Mine. Susan Elizabeth Phillips is one of a kind." —Jo Manning, Romance Forever
"Loved it, loved it, loved it! This story earns my second Exceptional Award. It is so good you will not want to put it down for a minute." —Romance Reviews